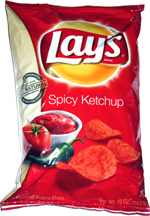 I've heard for years that ketchup flavored chips are huge in other countries, like Canada. Now, I've started noticing them more and more on U.S. soil. I've tried the non-spicy variety before, so I was pretty excited to see this new offering from Lay's in my local grocery store.
These chips are definitely spicy. My tongue had a good after-burn going for several minutes (which if you read this blog regularly, you know I like the heat.) Outside of the spice, though, I was pretty disappointed. I really didn't get a solid ketchup flavor. To me, they tasted too much like regular BBQ chips, lust a little less tangy, and with a blast of heat on the finish. Which is even more unfortunate because I don't really like plain BBQ chips.
Bottom line: If you're really wanting ketchup flavored chips, I would recommend Herr's Heinz Ketchup chips. These Lay's Spicy Ketchup chips aren't terrible, just not my thing.
Rating:
3 out of 5 ghosts.